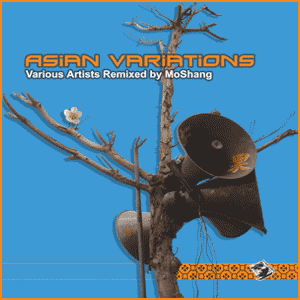 About the album
The Asian Variations album is a collection of remixes produced by MoShang in his Chinese Chill style of downtempo electronica, melding deeply laid-back beats with Chinese traditional instruments. Some of these remixes were solicited by the original artists, two were done for remix competitions, and in some cases MoShang approached artists directly requesting permission to remix their work. The artists represented on the album are literally from all over the globe; The U.S.A. (Fort Minor, Toao, Lovespirals, Brad Reason), Taiwan (Kou Chou Ching, Chang Jui-chuan, Viba, Andre van Rensburg, MoShang), South Africa (Gordon's Suitcase), Japan (Akihiko Matsumoto & Chage), Italy (Big Red Devil), and Slovenia (PureH) and for the most part the collaboration with MoShang was via the web. With the exception of Fort Minor and J-pop star, Chage, none of the artists are signed to major labels and all are working hard to be heard.
Visit the
download page
to download the complete album as a .zip file and for the press kit. For recent news and reviews of the album, please visit the
blog
.
The complete album and all the tracks on it are made available under a
Creative Commons Music Sharing License
. In short, you are welcome to share these tracks and freely use them for any noncommerical purpose, as long as you give credit to MoShang and the original artists involved.