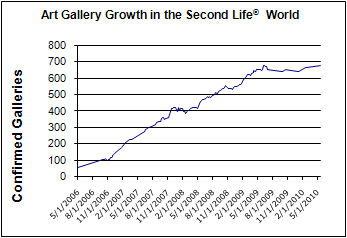 This list was created on 5/1/2006 by
Sasun Steinbeck
and has been maintained since then for the benefit of the wonderful galleries, artists and art lovers in Second Life. Spend some time visiting the galleries and museums by clicking below to visit, spend generously to support the many excellent artists making Second Life such a beautiful and creative place, and send the gallery owners a word of thanks if you enjoyed their gallery!
The lists below are updated weekly on Sunday nights. If you are a gallery owner and would like to join the list, please go
get a kiosk
and rez it at your gallery. The kiosk will give you detailed instructions on how to be automatically added to the list.
When in world, be sure to click one of the gallery kiosks found at any of the locations below to get your gallery tour HUDs that make it easy and fun to visit more art galleries in Second Life. Enjoy!
-----
About the kiosks
The kiosk system used for the gallery list was designed and scripted by me. It is an advanced version of the
Kiosk.Net
system sold by me commercially. The kiosks contain a notecard that is customized with gallery-specific data by the gallery owner - the gallery name, contact name, gallery type, website, etc. This data is stored in a custom SQL database on
sasun.info
that is dumped every sunday night to a custom script that converts the database into three output forms: plain text for the in-world notecards that are distributed by the kiosks, data for the in-world gallery tour HUDs also distributed by the kiosks, and HTML that I can copy into this blog showing the entire list by category. The SLURLs are stored as a location a few feet in front of the kiosks, so updating your gallery location is a snap, just move your kiosk and your SLURL will be updated automatically in the database. This makes maintenance of a huge list like this possible. I just give out the kiosks, and the users fill them out. The rest is automatic except for the weekly blog updates which doesn't take too much time.
I am currently working to bring this same system to market with some innovative kiosk functionality that will make this system perfect for people that want to make lists of locations or collect data from large numbers of sites or advertisers wishing to give out items or freebies in large number of locations across the grid in a reliable, scalable manner.
Thanks
Sasun Steinbeck!