A massive list of Second Life Art Galleries provided by Sasun Steinbeck of SasTech
http://sasun.info/ArtGalleriesOfSL.aspx
(DIGG IT)
This list was created on 5/1/2006 by Sasun Steinbeck and has been maintained since then for the benefit of the wonderful galleries, artists and art lovers in Second Life. Spend some time visiting the galleries and museums by clicking below to visit, spend generously to support the many excellent artists making Second Life such a beautiful and creative place, and send the gallery owners a word of thanks if you enjoyed their gallery!
If you are a gallery owner and would like to join the list, please go get a kiosk
in-world
or at
xlstreet.com
and rez it at your gallery. The kiosk will give you detailed instructions on how to be automatically added to the list.
When in world, be sure to click one of the gallery kiosks found at any of the locations below to get your gallery tour HUDs that make it easy and fun to visit more art galleries in Second Life. Enjoy!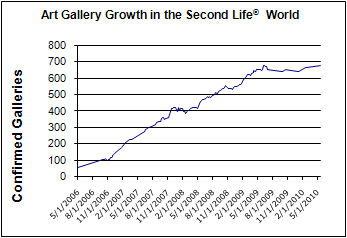 About the kiosks
The kiosk system used for the gallery list was designed and scripted by me. It is an advanced version of the
Kiosk.Net
system sold by me commercially. The kiosks contain a notecard that is customized with gallery-specific data by the gallery owner - the gallery name, contact name, gallery type, website, etc. This data is stored in a custom SQL database that you can view live here on this website at any time. The SLURLs are stored as a location a few feet in front of the kiosks, so updating your gallery location is a snap, just move your kiosk and your SLURL will be updated automatically in the database. This makes maintenance of a huge list like this possible. I just give out the kiosks, and the users fill them out. The rest is automatic.
Visit SasTech in Second Life
here
(Sasun Steinbeck on
Myst of Forzane
)